Cajun Tilapia with Coconut Rice & Mango Salsa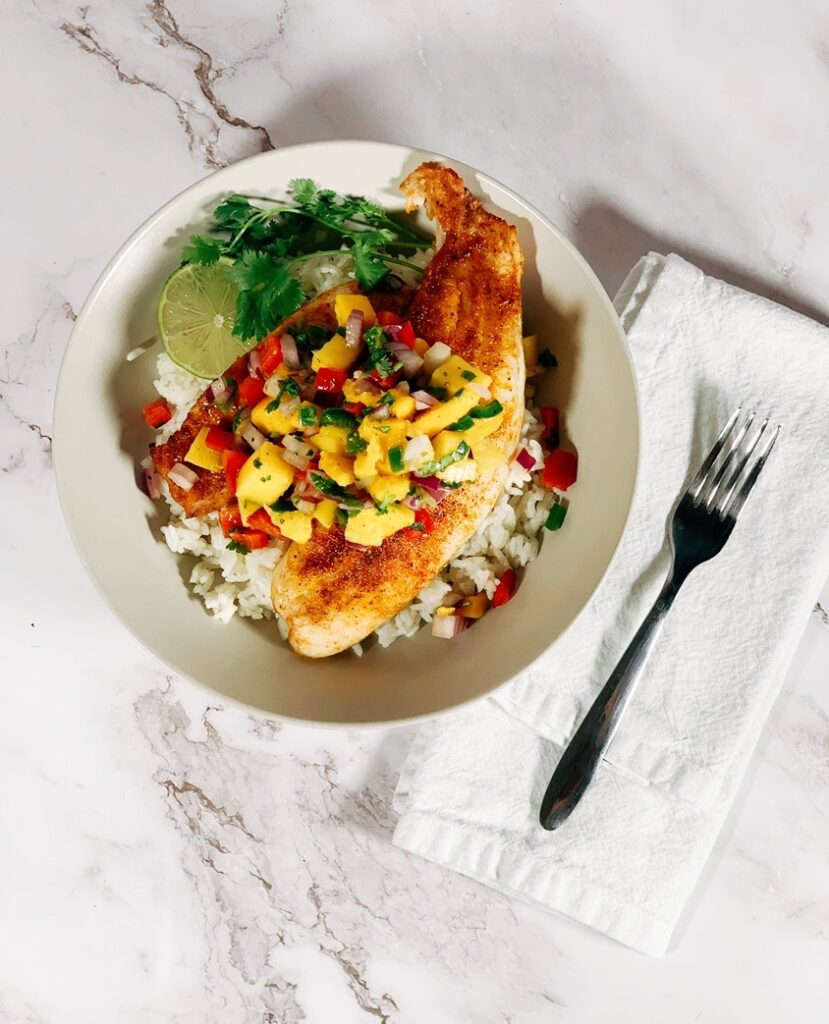 It sounds much more intimidating than it actually is to make, trust me. Simple, summery, and light! Swap out the tilapia with any other type of fish and I'm sure it will still be amazing.
Yield : 2 Servings
Cajun Tilapia
2 large Tilapia filets
4 Tbsp Cajun seasoning (store bought or blend ingredients below)

Paprika, Salt, Garlic powder, Black pepper, White pepper, Onion powder, Oregano, Basil, Thyme, Cayenne

Olive Oil
Coconut Rice
1 cup jasmine rice
½ of a 13.5 oz can light coconut milk
1 lime, zested
(TIP: cook 2 cups of rice with all of the coconut milk and save the leftover rice for a future meal)
Mango Salsa
2 large mangos, peeled and diced
1 red pepper, diced
1 jalapeno pepper, de-seeded and diced
½ red onion, diced
¼ cup cilantro, diced
1 lime, juiced
½ tsp chili powder
½ tsp salt
1 tsp pepper
Cajun Tilapia
Combine all cajun seasonings in a small bowl.
Pat the tilapia filets dry with a paper towel, then drizzle with olive oil.
Fully coat the filets with the cajun seasoning.
Place the filets in an air fryer basket and bake at 370 for 12-15 minutes depending on thickness. If using a stovetop, pan fry the filets in a skillet on med-high heat for about 5 minutes per side or until the interior is white and flaky.
Coconut Rice
Combine coconut milk with water until it reaches 2 cups of liquid. If using ALL of the coconut milk for 2 cups of rice, you will need 4 cups of liquid.
Bring coconut milk, water, rice, and lime zest to a boil in a medium saucepan. Cover and let simmer until all the liquid is absorbed, stirring occasionally.
Mango Salsa
Combine all the ingredients in a medium bowl.
Serve in a bowl starting with rice, then place the tilapia on top, and finish with the mango salsa, cilantro, and a lime wedge.

Recipe Inspired by Healthy Midwestern Girl