Coconut Cherry Sorbet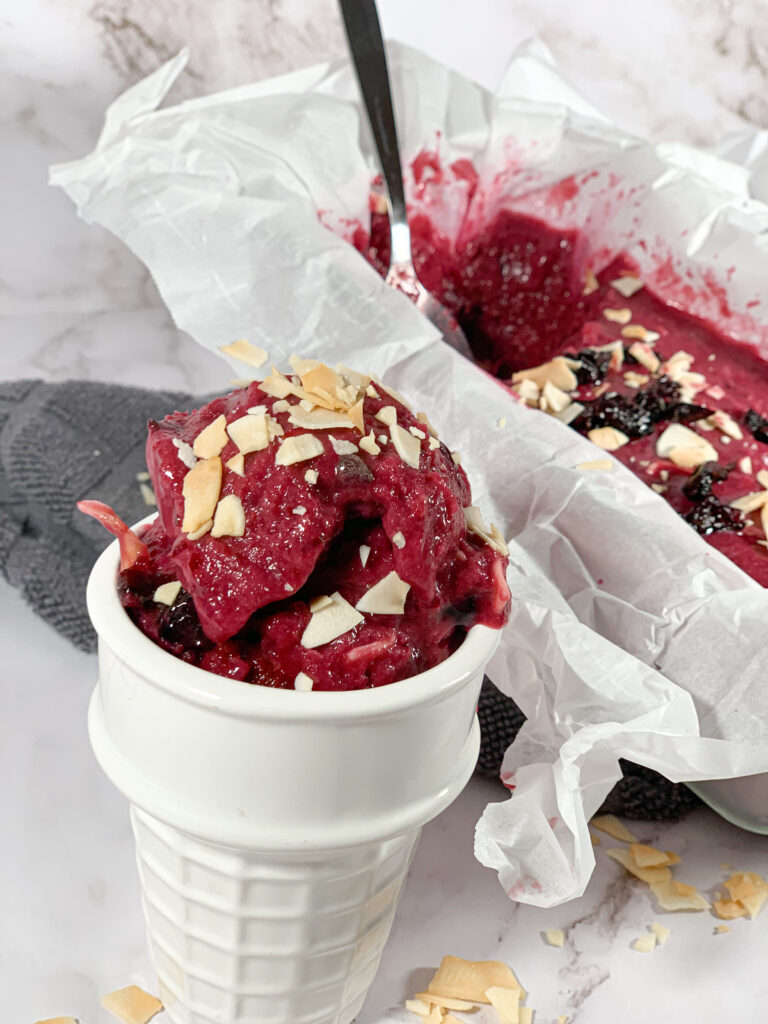 I made this recipe at work and LOVED it so much, I had to make it at home! I tried the recipe with Cream of Coconut and Coconut Cream… there is DEFINITELY a difference! Use cream of coconut! It's already sweetened and the coconut oils keep the texture smooth and creamy. It wasn't easy to find, but SO worth it.
Yields : 8 servings
Cherry Coconut Sorbet
1 bag cherries (approximately 5 cups)
15 oz can Cream of Coconut
¼ cup dark chocolate chips
¼ cup toasted coconut chips
Remove the pits of the cherries using a thick plastic straw. Push the pits out, but be sure to do it in a sink because it WILL make a big ass mess… and stain your hands a little.
Separate 2 cups of cherries from the bundle. Chop into small pieces and roast in the oven (350 for 30 min.) or in the air fryer (370 for 15 min.). They should almost resemble raisins bit should still be juicy. These will be mixed into the sorbet and sprinkled on top. Set aside to cool.
Combine cream of coconut, and remaining cherries in the blender. Blend until smooth (about 1 min.).
Pour into a loaf pan and set in the freezer for 4 hours. It should be firm but stir-able. Stir in the roasted cherries, chocolate chips, and coconut chips. Set back into the freezer for 3 hours, or until firmed.
Recipe inspired by GoWISE USA