Lemon Poppy Seed Cupcake with Blackberry Frosting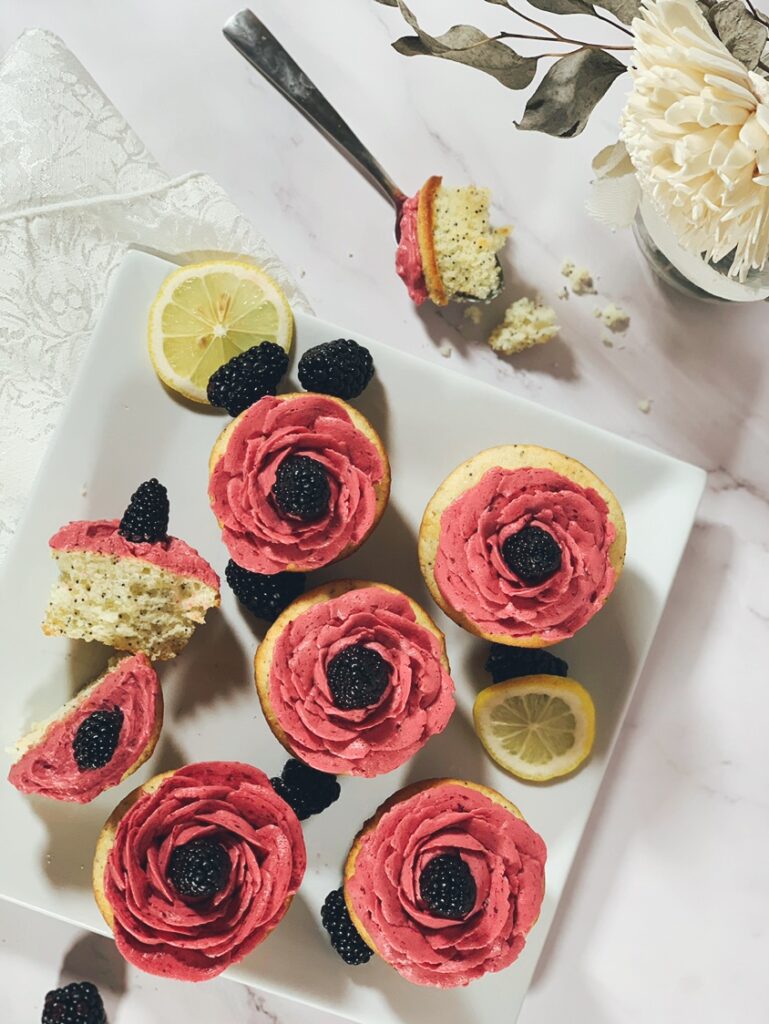 These cupcakes are amazing! Great summery lemon flavor! However, I didn't love the frosting. I used frozen blackberries to make the puree but I think it probably should've been done with fresh berries. OR maybe adding blackberry jam instead of making a puree from scratch then adjusting the powdered sugar amount? OR adding sugar to the puree? If you try this recipe, let me know what you did and how it came out!!
Yields : 14-16 cupcakes
Lemon Poppy Seed Cupcakes
1½ cups all-purpose flour
1 tsp baking powder
½ tsp baking soda
¼ tsp salt
½ cup unsalted butter, softened to room temperature
1 cup sugar
2 Tbsp lemon zest
2 large eggs
1 tsp vanilla extract
⅔ cup sour cream
3 Tbsp lemon juice, freshly squeezed
1½ Tbsp poppy seeds

Blackberry Frosting
1½ cups blackberries, fresh or frozen
1 cup unsalted butter, softened to room temperature
4 cups powdered sugar
¼ tsp salt
Lemon Poppy Seed Cupcake
Preheat the oven to 350F degrees and line muffin pans with liners.
Sift together the flour, baking powder, baking soda and salt in a large bowl. Give them a whisk.
Beat the butter, sugar and lemon zest until fluffy in a separate large bowl.
Add the eggs and vanilla extract.
Add about 1/2 of the sour cream followed by about 1/2 of the flour mixture. Turn off the mixer and scrape down the sides of the bowl.
Repeat the process with the rest of the sour cream and flour mixture.
Gently fold in the lemon juice and poppy seeds.
Spoon the batter into the prepared muffin pans filling each about 2/3 full.
Bake 1 tray at a time on the middle rack of the oven for 16-20 minutes, or until the tops look set and an inserted toothpick comes out clean. Cool in the pan for at least 10 minutes, then continue cooling on a wire rack.
Blackberry Puree
Add the blackberries to a food processor or blender and pulse until smooth.
Push the puree through a metal sieve to remove the seeds.
Transfer the puree (without seeds) to a small saucepan over low heat. Bring to a gentle simmer while stirring occasionally for 10-20 minutes, or until it's thick like jam in consistency. You should end up with about 2-4 tablespoons in volume. Remove from the heat and cool completely.
Blackberry Frosting
Beat the butter until soft.
Turn the mixer down to low speed and beat in 2 cups powdered sugar and the salt.
Add 2 tablespoons of the thick, cooled puree.
Beat in the rest of the powdered sugar about 1/2 cup at a time, adding in a little more blackberry puree or cream as needed.
Transfer the frosting to a piping bag (I used a 1M tip) and frost the cupcakes, or frost with a knife.
Recipe inspired by Just so Tasty