Cornbread Mini Cupcakes with Ranch/Blue Cheese "Frosting" with a Buffalo Chicken Nugget Topper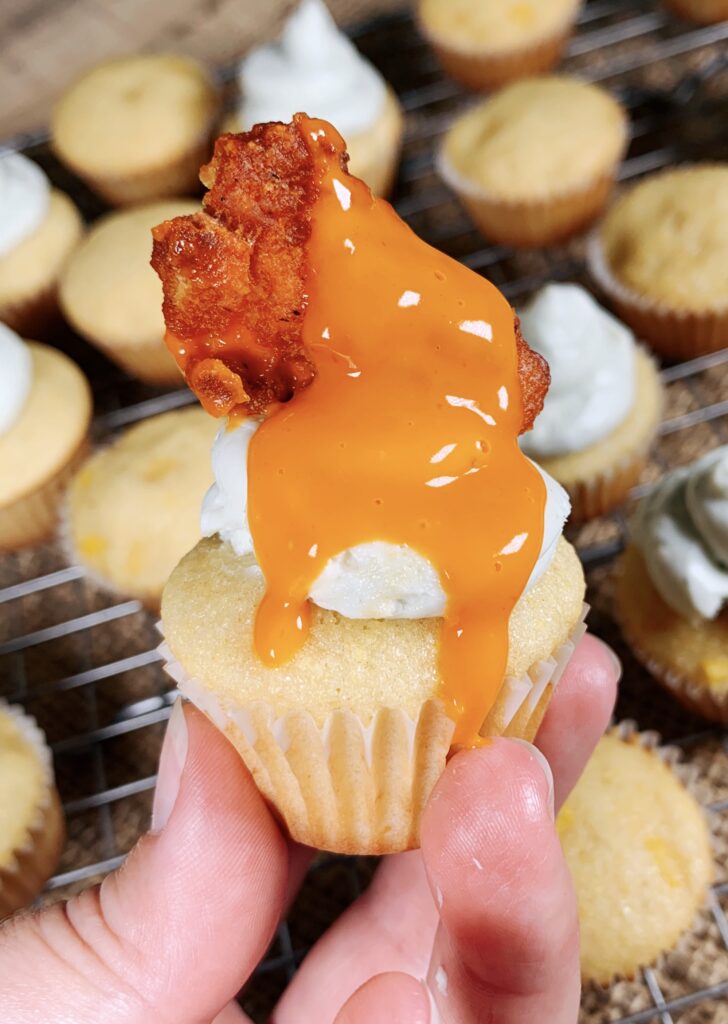 Taking you to FLAVORTOWN! Cornbread base, ranch/blue cheese frosting, and a buffalo chicken tender topper. Wow.
Yields: 30 Mini Cupcakes
Cornbread Cupcake
1 ⅓ cup all-purpose flour
⅓ cup yellow cornmeal
½ tsp baking powder
¼ tsp baking soda
¼ tsp salt
½ cup butter, softened
½ cup honey
½ cup sugar
½ cup milk
¼ cup sour cream
2 large eggs
½ tsp vanilla
½ can sweet corn (optional)
Ranch/Blue Cheese Cream Cheese Frosting
1 package cream cheese, softened
½ stick butter, softened
⅓ cup blue cheese crumbles
2 Tbsp Hidden Valley Ranch Seasoning Mix
Buffalo Chicken Tender Topping
15-20 oz. Tyson Anytizers Popcorn Chicken (half bag)
½ cup Buffalo sauce
CORNBREAD CUPCAKE
Preheat oven to 350 and line mini muffin tin with cupcake liners.
Combine flour, cornmeal, baking powder, baking soda, and salt in a medium bowl and set aside.
Beat butter, honey and sugar together in a large bowl (using hand or stand mixer) until fluffy. Beat in the eggs one at a time. Add milk, sour cream, vanilla, and half of the dry ingredients. Mix until combined, then add remaining dry ingredients until well combined. Fold in corn until evenly distributed.
Fill tins ⅔ full and bake for 10 minutes or until an inserted toothpick comes out clean. Let cool completely.
RANCH/BLUE CHEESE CREAM CHEESE FROSTING
Place cream cheese and butter in a medium/large bowl. Mix using a hand or stand mixer until well combined.
Add the blue cheese crumbles and ranch seasonings. Mix on high until well combined.
Transfer frosting into a piping bag and pipe the frosting in a swirling motion into the cupcake.
CHICKEN TENDER TOPPING
Cook the chicken according to the package instructions.
Cut the larger chicken tenders in half, making them small and bite-sized.
Toss the chicken tender bites in a medium bowl with buffalo sauce.
Place 1 chicken tender bite on top of each frosted cupcake.
Recipe inspired by Garnish and Glaze and The Sugar Bakery